Leadership training - the liquidation call
A demanding task for any manager is to conduct difficult and uncomfortable conversations with their employees. This is especially true in connection with a restructuring processes resulting in the liquidation of working conditions (ref. AML § 15-1).
When this occurs, we often find that the nearest manager "pushes" the implementation of such conversations onto HR or the senior manager, on the grounds that the nearest managers must concentrate on the day-to-day operations. The manager is thus not responsible for carrying out the liquidation call himself.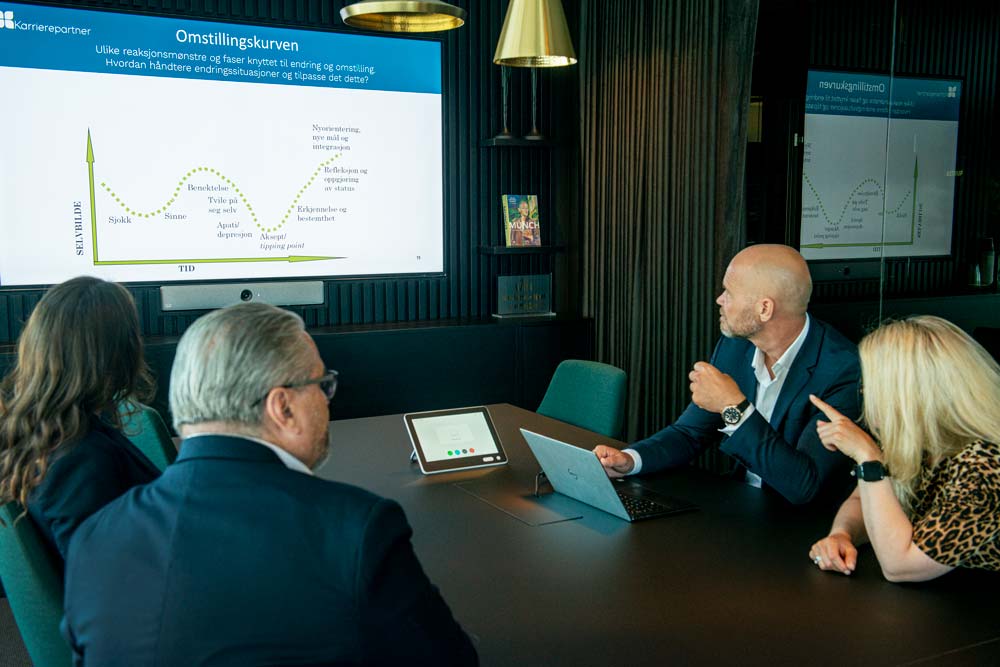 Ønsker du at vi tar kontakt med deg?
Our customers' experience is that the managers who receive the right training and the right skills to conduct difficult conversations, gain development in their leadership role. This has a benefit in other difficult situations, and also in terms of the leadership role during and after the restructuring.
We at Karrierepartner AS have trained several hundred managers in carrying out difficult conversations with their employees. We strongly recommend that the management and HR department of the organization facilitate leaders at all levels to gain insight, training and skills to complete these challenging talks.
Customized training/preparations:
Courses in the liquidation call are conducted over 1 day and consist of a mixture of theory, cases and training.
In advance of the course, a review and quality check of procedures related to process, selection criteria, notice of the liquidation call and documentation to be used in the conversation itself are carried out. This ensures the best possible tailored course for you as a customer.
In planning, we also team up with the client's lawyers and we often involve resource persons here in parts of the course implementation. We act together holistically and with clearly defined role distribution. The course gives the leaders skills and confidence in all phases related to the preparation and implementation of the conversation.
Management key objectives in the course:
Leadership role in restructuring
Requirements in the legislation and the intention of the conversation
Planning and implementation of the liquidation call
Communication and framework for the conversation
Handling emotions and different reaction patterns
Protocols
Evaluation and follow-up activities
Hva kan vi hjelpe deg med?
Legg igjen ditt telefonnummer eller din e-post, så tar vi kontakt med deg for en uforpliktende og gratis samtale eller tilbud.
Ved å sende inn dette skjemaet godtar du at vi kan lagre og benytte din informasjon for å kontakt deg.
Les mer om personvern her
Career counselling for businesses