Performance and career development
A major challenge for employers now and in the future is to retain key employees and to develop talents.
It is necessary to a largely extent that the individual experiences personal and professional development, mastery and achievements in his job. This is due to the requirements and expectations of the employee from the employer, colleagues, customers and partners. The danger of not focusing on this as an employer is that the employee can quickly experience reaching the "career ceiling", loses the engagement and thus stagnates in his job. Employees who experience this may often leave their position or the company.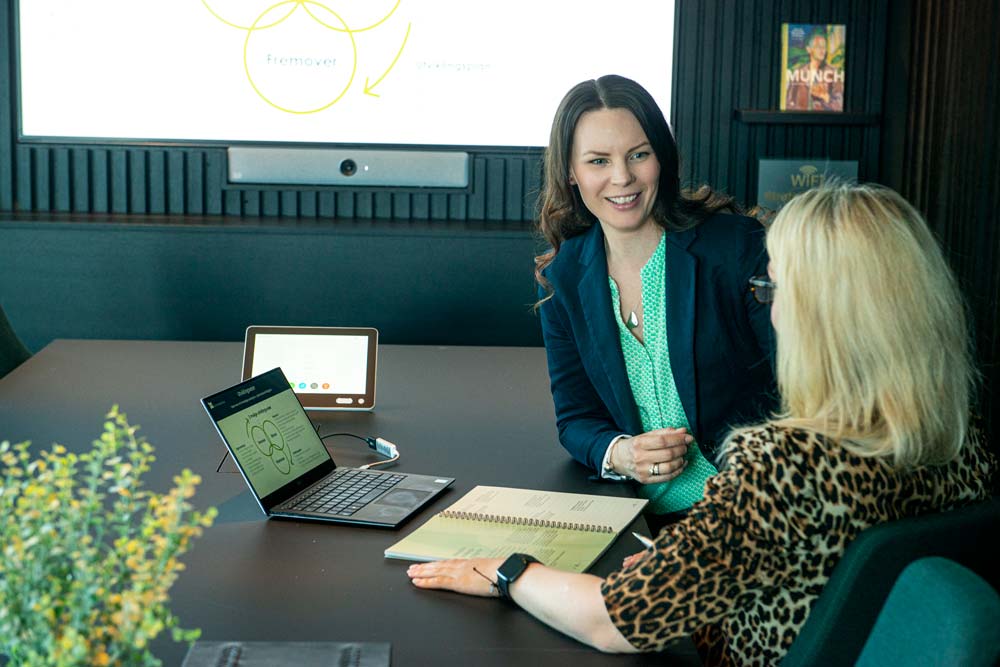 Ønsker du at vi tar kontakt med deg?
Relevant employees = Relevant organisations
A focus on performance and career development is especially important at a time when employees have become more aware of what they want from their involvement with you as an employer. This is in terms of self-realization, competence development and career opportunities that lead into the fact that one finds himself relevant in a working life situation with an ever-faster change.
In short: Relevant employees = Relevant and sustainable organizations.
We have expert resources, programs and tools:
Karrierepartner possesses certified expert resources and now offers a Performance and Career Development program that ensures a high degree of motivation and enthusiasm. On the personal level as well as the professional development of the individual. The program can be adapted to individuals, group development, or leadership.
This is based on a recognized and research-based program from our partner in Sweden, Starck & Partners AB, and is used by over 40,000 employees in a number of well-known and market-leading companies in finance, the media industry and industry within the private and public sectors.
The program is individual, process-oriented and includes a survey of its own assessments, experiences, driving forces and own expertise. The candidate receives a workbook, works on his own development tasks between meetings and receives follow-up, feedback and coaching from an expert in Career Partner.
The process runs over 5 x 2 hours, over a period of 8 to 12 weeks.
Performance and development plan:
The program ends with a performance and development plan for the candidate, this is indicative of the candidate's further development process in the job. The candidate establishes his plan for the nearest leader and it can be included as part of routines for the implementation of employee development conversations. Thus, the added value of the plan is very high.
Parent: Inward (me as a person, self-awareness), Beyond (me in relation to my surroundings), Forward (my goals, my performance and development plan)
Mapping: What is most important to me in a job situation?
Knowledge, skills, attributes, my present situation and what do I want to develop?
What motivates me most?
How do I prefer to solve a task?
Feedback: How do others perceive me and how do I want to be perceived.
Result for the candidate:
Renewed self-awareness, motivation and initiative
Improved ability to market both inside and outside your organization
Develop a strong career network
Clarified decision-making, performance and development plan
Our program is used by our customers in various ways:
Individually for employees with a focus on self-awareness, performance and development
Certification for an organization that wants to build an internal career center with its own career advisors
Group development
To create effective teams
As an effort for the leadership group for the development of their own leadership
Certification of in-house career coaches in your company?
We have the opportunity to certify our own internal performance and career development resources in your company based on our concept. The process runs over 5 days, of which 3 days is theory, conceptual review, exercises and training, while the last two days are related to guidance and certification respectively.
Hva kan vi hjelpe deg med?
Legg igjen ditt telefonnummer eller din e-post, så tar vi kontakt med deg for en uforpliktende og gratis samtale eller tilbud.
Ved å sende inn dette skjemaet godtar du at vi kan lagre og benytte din informasjon for å kontakt deg.
Les mer om personvern her